The Best Instagram Captions to Use When You Study Abroad
This post may contain affiliate links, which means we may earn a commission if you purchase through our links.
Pictures say a thousand words, but captions can only say so many.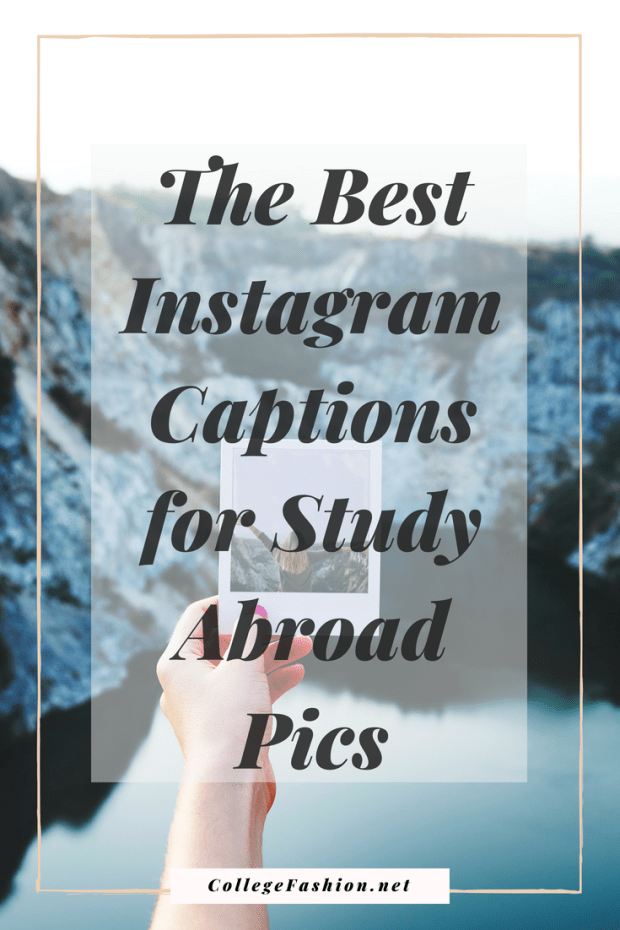 Fall semester is just around the corner, which means that summer in unfortunately over and it's time to return to campus. However, for a lucky few, they get to spend the next semester studying abroad at a university in a different country (or countries). Being in a foreign place comes the opportunity to travel, and I highly suggest you do.
No matter where you go, one thing is a given: you'll want to take pictures! Once you've selected your favorites, you will likely be posting them on Instagram or Facebook so that your friends and family back home can see all of the crazy adventures you've gone on. Along with the amazing photos, you will also need an amazing caption and… that's when things start to get stressful.
If you're planning on studying abroad while in college, or just traveling in general, then look no further. Below are Instagram (or Facebook) captions for the girl who likes cheesy captions, the girl traveling with a group of friends, and the girl who loves puns.
With these captions, you can be sure your study abroad photos are your most liked ever.
For the girl who is sentimental:
"Life is short, the world is wide, I want to make some memories" -Lily James as Donna Sheridan, Mamma Mia!: Here We Go Again
"Not until we are lost do we begin to understand ourselves"- Henry David Thoreau
"Oh, the places you'll go"- Dr. Seuss
"I'm in love with places I've never been to and people I've never met" -Anonymous
"I haven't been everywhere, but it's on my list"- Susan Sontag
"Travel far enough you meet yourself"– David Mitchell
"Wanderlust: a strong desire to travel" – Dictionary.com
For the girl who's traveling with friends:
"A journey is best measured in friends, rather than miles." – Tim Cahill
"Life was meant for great adventures and close friends."
"A good friend listens to your adventures. A best friend makes them with you."
For the girl who likes to joke around:
"Got some vitamin sea today"
"Czech out this view" -Czech Republic
"There's no place like Rome" -Rome, Italy
"Moher pics, please" -Cliffs of Moher, Ireland
"I had gelato fun here" -Italy (or anywhere with gelato)
"Eiffel in love with this place" -Paris, France
"Too bad Hogwarts didn't accept FAFSA" -England
"A-fricakan love this place" -Africa
"To the window, to the (great) wall" -China
Bonus: basically anything from this website.
Are you studying abroad this semester? Where are you going? What captions did you use for your previous travel destinations? Let us know below!
Captions can make or break a photo, or at least that's what it feels like. No matter what type of caption you use, or if you decide to post your pictures without them, it's more about the experience you had rather than the photos you take.
While you're abroad you're going to make memories that last a lifetime. You're going to meet new people, live through new experiences, and grow as a person. While you're taking your photos make sure to also enjoy the moment: you're never going to be in this specific place at this specific point in your life again.
Source: #Fashionblogger #fashiontrends
---
---