3 Wedding Dresses Style Hack For a Bride To Be
This post may contain affiliate links, which means we may earn a commission if you purchase through our links.
Written by Maria Shinta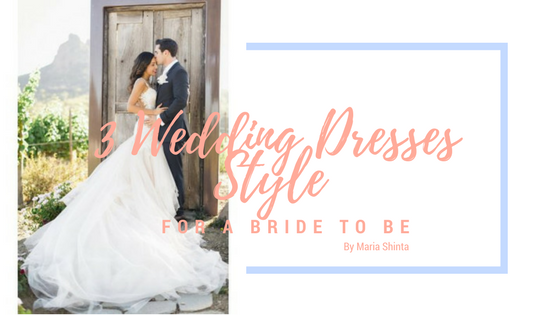 Whether you have been dreaming the whole life to have a spectacular wedding ceremony or a simple, intimate wedding style. You always get so anxious and excited when it comes to choosing a wedding gown. Probably, some of you when you were a kid looking at in the mirror to try on your parent or grand parent's wedding dress that will pass it on you someday when you will have your own wedding. You would think to yourself, I'm going to wear this wedding dress on my wedding someday.
Now, the time has come that you have to prepare your own wedding and there are so many choices out there. The wedding dress and wedding theme have evolved from time to time. It's not just your traditional wedding dress that your parent used to wear.
Nowadays, you can customize your wedding to your desire and the theme that you would like to have.
Here are 3 Wedding Dresses ideas that you can try on for your next wedding.
Who doesn't love to have a wedding ceremony on the beach? We all dream to have a wedding party on the beach with a spectacular sunset view, good wine, and good foods, right? Along with the wedding beach style dress to wear that everybody would admire your gorgeous, sexy beach wedding dress.
If you want to have more traditional a lace wedding dress that will compliment your figure, you can find it also on these collections of lace wedding dresses
For those of you who is a little conservative and want to have more elegant style wedding dress, you can always wear a long sleeve wedding dresses
Those are my favorites wedding dresses. What's your wedding style?
Let me know by commenting below.
---
---